Yogatapasvi Shree Narayankaka Dhekane Maharaj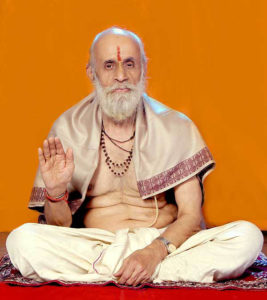 Parampoojya Shree Narayankaka was born at Dhule in a devoted religious family. He had liking for Sanskrit, Indian Phylosophy and Yoga Science. In the year 1950, in his college years, Shree Narayankaka Maharaj received an Initiation in Shaktipat by Paramhansa Parivrajakacharya Shree Loknathtirth Swami Maharaj. With the strict observation of faithful celibacy, Shree Narayankaka Maharaj devoted his complete life for the propagation of the knowledge of Shaktipat tradition and for the welfare of all the seekers.
Parampoojya Shree Narayankaka was highly educated. He was graduated with the degrees – B. Sc., B.E.(civil from COEP), M.E.(Public health, Kolkata). He retired as a Superintendent of Engineering Department from Maharashtra State Govt. Services in the year 1985.

In the later years of Brahmarshee Shri Dattamaharaj Kaveeshwar, Shri Narayankaka Maharaj efficiently carried forward task as the Chief Trustee of Shree Vasudeva Niwas. Yogtapaswi Parampoojya Shree Dhekane Maharaj enhanced the task of the tradition with the zest and it was, everyone should be benefited by the knowledge of Siddhayoga. He dispersed in many of his speeches at International and national seminars, religious conferences, the importance of this very tradition of Shaktipat Yoga.
Shree Narayankaka Dhekane Maharaj is the pioneer of a novel, modern introduction – Purvabhyas (Initial Preparatory course) – of Prana, which relieved many from their worries, tensions, ailments due to today's life of modernization.
At the World Peace Conference, on 11th September 2007, while addressing the religious heads from all over the world, he emphasized on the necessity of the assimilation of the knowledge of Indian Philosophy and Shaktipat Yoga. He gave practical lessons to all the present at the conference. Everyone present admitted openly, how they have experienced a great relief and calm and expressed their thanks by mail as well.
On the 5th November 2012, Parampoojya Shree Narayankaka Dhekane Maharaj passed away at Shree Vasudeva Niwas.