Welcome to Shree Vasudev Niwas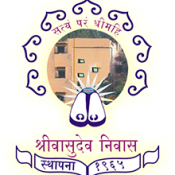 Shree Vasudev Niwas institution is the worldwide acclaimed ,pious and prime seat of Mahayoga.
According to ancient scriptures, "Gurutatwa" is the everlasting and eternal principle and is in itself ever luminous, guiding and enlightening everybody and hence is described in brief as Vasudev Sarvam. With this very notion Shree Vasudev Niwas Ashram was established in Pune by P.P.Yogiraj Shree Gulawani Maharaj. "Shree Prasad Paduka" received in blessings from Lord Shri Dattatreya, by matoshree Umabai of Shri Gulawani Maharaj are in daily worship at Shree Vasudev Niwas Ashram and continue to be the source of eternal blessings even today.
Any yoga form is for the holistic integration of body,mind and soul and everybody practising it are ultimately seeking happiness and satisfaction at body and mind level. Asana (Yoga postures),Pranayam(Breathing techniques)and Japa (Chanting mantra)etc are some of the techniques of yoga. Today despite of having conquered every sector of life and attaining huge materialistic success, everybody is still searching for that "Ultimate Happiness",but how to find it- is the very basic question in front of everybody. The answer to it is "Mahayoga".
Mahayoga is at the pinnacle of all the yogic sciences and traces back its origin to Lord Shiva the Adi- Jagadguru and this "Gurutatwa" is the very essence of this Mahayoga  tradition.Mahayoga is different form all kinds of yoga because one does not have to perform any of the above mentioned techniques, but instead ,the yogic kriyas /actions take place automatically as per the wish of Mother Power and individual's inner requirement.
This interaction of ours, will help you understand and experience exactly how these yogic kriyas take place automatically, which will lead you effortlessly towards the highest spiritual goal and simultaneously will result in immense satisfaction on day-to-day basis. The lineage of this Mahayoga encompasses, P.P.Yogiraj Shri Gulawani Maharaj,P.P.Bramhashree Datta Maharaj,P.P. Yogatapasvi Shri Narayan Kaka Dhekane Maharaj and presently Shri Sharadshastri Joshi Maharaj (Chief Trustee of Shri Vasudev Niwas)
The task of spreading this Mahayoga, guiding millions of disciples, in India and abroad is being carried out under the divine guidance of the very eternal "Gurutatwa" even today.