P. P. Shree Narayandev Teerth Swami Maharaj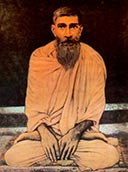 Parampoojya Shree narayantirth Swami Maharaj is the recent propagator of Shaktipat Yoga. Parampoojya Shree Narayandevtirth Swami Maharaj was the only disciple of Swami Maharaj. It was because of him, that the knowledge of the Shaktipat became accessible to the followers at large. The credit goes to Parampoojya Shree Narayandevtirth Swami Maharaj alone. The family name of Parampoojya Shree Narayandevtirth was Gangopadhyay. His father, Tarinicharan was very calm, religious person. His mother, Navadurgadevi, was also very religious and very virtuous by nature. Gangopadhyay family was residing in the village Mandrasar in Faridpur District of East Bengal.
Though the parents were facing scarcity of daily food, they were very committed to their righteous duty of hospitality. But, never a single ascetic visiting, returned empty handed. Facing such difficult ordeal daily competently, the luster of the penance by father Tarinicharan and Mother Durgadevi was glowing more and more in their son. This growing luster decided to get manifested in actual form. The divine blessings of an ascetic also declared the same. In 1870, on the full moon day Tarinicharan became a father and Navadurgadevi a mother. A radiant son was born. The New-born was christened as Vipradev Sharma. He was better known further as Kalikishor.
The poverty at home restricted any pampering. Every shortcoming was recovered by emotional riches. The luster of the boy was noticeably distinct. But the circumstances were very overwhelming. Due to poverty this boy of extra ordinary intellect and energy, could not complete his education. Somehow he completed his education up to sixth standard. He had to take up the job, saying goodbye to the further education.
Kalikishor was very much detached by nature. He started sincere reading of various scriptures as soon as he got used to reading. He was to get immersed quickly in devotional songs than anything else. He preferred simple living. After the thread wearing ceremony at the age of eight, he got authorized for worshiping Gayatri. Kalikishor utilized this period fully. With the ultimate faith and loyalty, he continued his penance. The born luster of Kalikishor was growing every day.
In those days it was a practice to get married in early years of the age. Discussions about his marriage were gaining interest of all at home. As soon as Kali got the smell of it, the reluctance started building up within him. As a result, one day on a strange impulse he left his home. In his thirst of seeking God, he relied completely on God's wish only. Kalikishor did a lot of footslogging in those days. He wandered many a times on an empty stomach. He travelled a great distance of hundreds of miles, from Baresal of East Bengal to Bardwan, on foot. Age must be hardly somewhere around twelve or thirteen years. And intention was like that of great ascetic. This went on for three years. Neither he met God nor could he see his Guru. Kalikishore was exhausted by the whirling thoughts. All the limits of physical exertion were crossed. He decided to remain calm in such adverse times and returned home after three years. Everyone at home was relieved on his return.
The topic of Kalkishor's marriage came up again. Having no option, to keep the respect of his parents, Kalikishore got into wedlock at the age of eighteen. He gave his acceptance to Sarojinidevi as his wife. Responsibilities of the married life got added to his spiritual journey. He started working to meet the challenges of new responsibility. But disgustedly he again left the home, went to Vaidyanathdham. He got weary of that place within three-four days. He reached PurushottamKsetra
alias Jagannathpuri. Here among many he met Karali celibate in teens, during his meetings with various people. On acknowledging Kalikishor's craving, that teenager gave him an address of one hut- like shelter. Kalkishore in the company of that teenager came to that hut. On entering it, he saw a figure clad in saffron clothing, sitting in a very calm, pleasant posture. There he experienced the sudden recognition of Sadguru. That figure was of no one else but that of Parampoojya Shree
Gangadhartirth Swami Maharaj.
In the year 1886, here at this same place Kalikishor was initiated in Shaktipat by Shri Guru maharaj on the auspicious day of Akshaya Trutiya in the month of Vaishakh. Kalikishor was then fully engrossed in the services at Shri Gurudev Swami Maharaj and his own spiritual practices for some period. He had simply forgotten everything else. But after the counseling which he received from Shree Gurudev Swami Maharaj, he was asked to return home. Taking these words of Shree Gurudev as supreme, he left the hermitage.
When he was hardly twenty seven, he suffered a loss of his father in 1897. Being the elder, all the duties of the married life were now his responsibility. After some period he came to village Vinitiya of District Dhaka in East Bengal and resumed the services at one of the landlords. During the span of eleven years of service over there, he completed many rituals properly. Actual help that Kalikishor received in accomplishing his routine order in this period was from his wife. She did take care of all the responsibility of making the accomplishments possible for her husband. In the year 1913, Shree Narayantirth Swami Maharaj named the temple of Kalimata as
"Dnyansadhanamath". During the period of 1913 to 1920, there was enormous growth in the number of disciples of Shree Narayantirth Swami Maharaj. "Dnyansadhnamath" was therefore shifted to Madaripur as the old place was falling short to cope up with.
Parampoojya Shree Narayantirth Swami Maharaj was a very competent Guru. He was very considerate. Many a times he spared himself on taking predestined sufferings of his disciples and helped them in their upliftment. Shri Gurudev was aware of his diminishing fate. He suffered from ulcer. His health went down every passing day. Finally, presenting himself in front of all his disciples, he bid them his final farewell in 1935.