P.P. Shree Loknath Teerth Swami Maharaj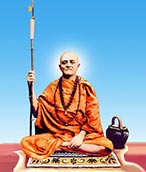 Paramhansa Parivrajakacharya Shree Loknathtirth Swami Maharaj was born on 8th May 1892 at the house of Chakravarti in Dhaka city – now the capital of Bangladesh. Chakravarti was on duty of worshiping daily at the Shri Dhakeshwari Temple. Paramhansa Parivrajakacharya Shri Loknathtirth Swami Maharaj was known as Yogeshchandra in his earlier life. He had a deep attraction for worshiping Kalimata since childhood. Taking a recluse in some corner of the Dhakeshwari temple he was to
continue his meditation for the whole day. Having lost the parents in childhood, he had to let go his studies after the fifth standard. He was now craving earnestly for Sadguru – A Spiritual Master. By the blessings of Kalimata he met his Guru – Parampoojya Atmanand Brahmachari. He was bestowed with celibacy in the beginning and then was initiated for the practice of Kundalini Mahayog alias shaktipat.
On receiving asceticism at the age of twenty-two he was named "Swami Shri Cinmayanand Saraswati". Thereafter Parampoojya Swami Maharaj took recluse in the jungles of Tahari-Gadhwal and continued his penance for two years. On withstanding his penance successfully, he was directed to go Southward by Mahakali Jagadamba herself personally. Accordingly, Parampoojya Swami Maharaj left the Himalaya and set for the South. After many dramatic incidents, Parampoojya Swami Maharaj saw Parampoojya Shree Vamanrao Gulavani Maharaj at Hoshangabad in Madhya Pradesh. Before this, Parampoojya Shree Vamanrao Gulavani Maharaj had tried a lot for Kundalini awakening by the methods in Hathyoga. He had failed to achieve it. But Parampoojya Swami Maharaj, on sparing him initiation in Shaktipat, obliged him with the ecstatic experience of awakening in a split second.
On the 30th January 1927 – Paush Vadya Dashmi – Parampoojya Swami Maharaj comprehended Dandi Asceticism. He became known later as "Swami Shri Loknathtirth". The complete journey of life of Paramhansa Parivrajak Shree Loknathtirth Swami Maharaj was guided by Kalimata. He never did anything without her consent. Paramhansa Parivrajak Shree Loknathtirth Swami Maharaj was completely against performing any miracles, but for relieving his devotees from various problems, he made use of various attainments – Siddhis – by the blessings of Kalimata.
He travelled to all the corners of India abiding to Parivrajak conditions. He had a special affection for Maharashtra. He accepted a stay in Barshi and Pune at the places of devotees. He loved Parampoojya Shree Gulavani Maharaj as a fatherly figure. In his stay at Kashi in 1955, his health started declining. He sent a word for his head disciples. He instructed them about his final wish telling them to keep his body in a stone trunk on his passing away, to be immersed in the waters of Ganges. Further, they were instructed to worship Kalimata and fifty-four damsels. He promised, every person present will witness a divine experience on this occasion.
Paramhansa Parivrajakacharya Swami Maharaj left his mortal body on the 9th of February 1955 at the pious domain of Kashi. As per his instructions, when fifty-four damsels were worshiped, a divine flame emerged from the statue of Kalimata, travelled floatingly before the eyes of every damsel offering a divine sight and finally merging back into the statue of Kalimata. The flow of Mahayoga reestablished by Parampoojya Parivrajakacharya Shree Loknathtirth Swami Maharaj has been continued earnestly by ascetics of this convention. It has been further propagated by Parampoojya Shree Vamanrao Gulavani Maharaj in Maharashtra and in South India. "Shree Vasudeva Niwas" is the prime-most centre in the South for Mahayog convention.